Diagram 1
The Simplicity of
Design Process:
Define a Problem, and Solve the Problem
by Generating-and-Evaluating Ideas for Solution Options.

---
Diagram 2a
The Symmetry of
mental and physical:
How do you EVALUATE ?
Design Experiments, and Do Experiments
mentally (by imagining) and physically (by actualizing),
and Use Experiments for evaluative Quality Checks: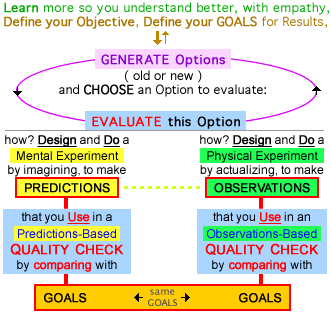 ---
3 Elements ( P G O ) are used in 3 Comparisons: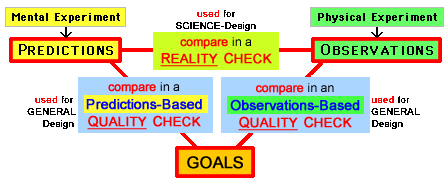 ---
Diagram 3b, for Stage 3`:
creative GENERATION
is
guided
by
critical EVALUATION
when you ask "
revise?
" in a
Design Cycle
or
Science Cycle,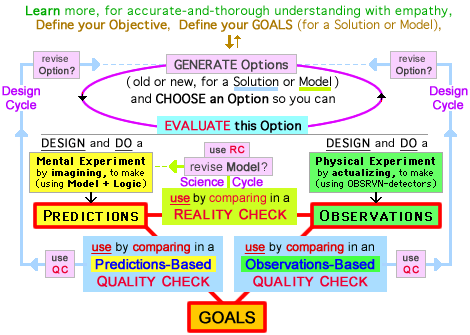 ---
To
learn by discovery
you can
study this diagram (above) and think about
problem-solving process
, asking "what part of problem-solving process
is in each part of this diagram?" And to also
learn from explanations
,
put this diagram (which is a Clicker Map)
into the left frame`
, click
on any of its 23 link-areas, and learn by reading about each area.
The diagram below is discussed
near the end of my page
about
Using a Process of Inquiry to teach Principles for Inquiry.
---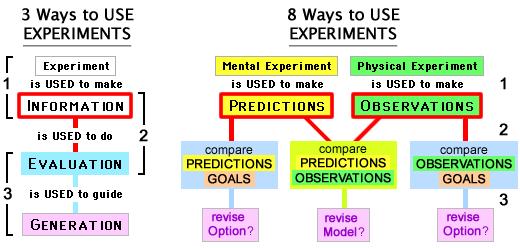 ---
Learning from Experience
in cycles of

PLAN
(Mental Ideation)
and MONITOR
(Physical Testing):